It's not long now until we kick off the 2023 English Alpine championships. This year we are back with all events plus even more! Please read the information below.
Opening Ceremony
The Bormio philharmonic band will lead a parade through the streets of Bormio, culminating in the main square where the championships will be officially opened! All competitors are invited to join the parade and banners will be provided for each club, which can be collected from the start of the parade. There will be complimentary drinks and nibbles in the square provided by Bormio Tourism after the ceremony, everyone is welcome to join us celebrate the opening of the 2023 Championships.
When: 17.45
Where: Via Roma MAP on SE website
Programme
The latest programme can be found on the Snowsport England website. Any changes will be published on the what's app groups.
Final Prize Giving
We are excited to announce, that new this year, we will hold the final prizing giving at the stadium at the bottom of the Stelvio piste on the Friday afternoon. Bormio Tourism will be providing drinks and nibbles and a band for entertainment, this will be a fantastic moment for everyone involved to celebrate all the success of the week and we hope that you will be able to join us.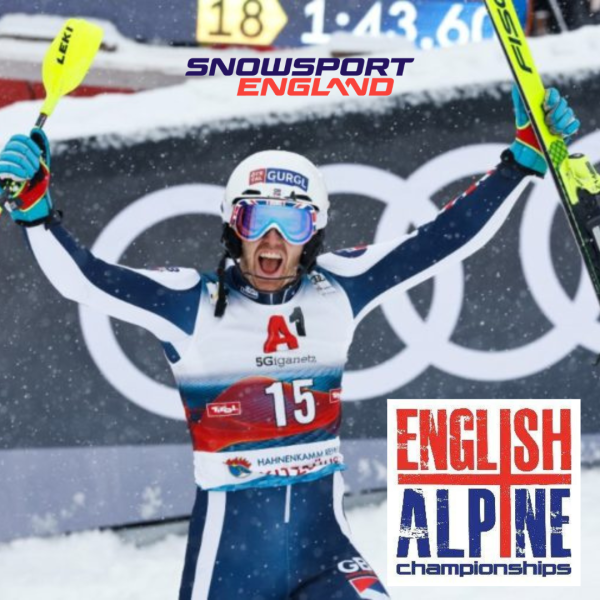 Rossignol Ski test athletes and parents
Rossignol are sponsoring the championships in 2023, this is the 9th time they have sponsored the event and we are pleased to confirm that Rob Birrell and Chris Best will be joining us in Bormio. They will have the latest races skis for athletes to test, plus other skis for any family and friends to test out. Do go and say hello and try some skis out, they will be happy to help! You can find them on the slopes from Sunday – Wednesday.
Ski Club GB Bursary

This year we have partnered with the Ski Club GB, through the partnership we will be offering a bursary to our first overall male and female winners in FIS. This fantastic bursary is £2000 each, this will help support young, up and coming athletes and we are grateful to Ski Club GB for their support. These will be awarded at the final prize giving ceremony, along with some extra goodies for the bursary winners!
Snowsport England Open Meeting – English Alpine Championships
We would like to invite all affiliated clubs, coaches and parents to an open meeting in Bormio on Sunday 12th Feb at 18.45. This will be a chance to meet the new chair Dominic McGonigal, Gareth Case members director and Tim Fawke CEO.
Where: Race office, Bormio
When: Sunday 12th Feb 18.45 – 19.45
Sponsors
A huge thank to all our Sponsors for the event Bormio Tourism, Rossignol, Ski Club GB, Vitalini, Ski Bitz, Ski Bartletts.
We can't wait to see you on the slopes and get racing